JIM BRIDWELL: THE YOSEMITE LIVING LEGEND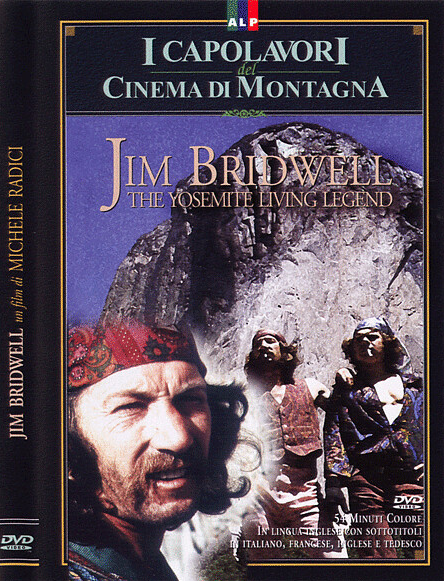 Trhee summers working with a climbing myth. Climbing, talking and  living with him. Many of the historical climbs first opened by Jim Bridwell are climbed by Bubu Bole ( an Italian climber confortable on 8b) belayed by Bridwell.
The film is 54′ long and subtitled in 4 languages. (English, Français, Italian and  German). There are many extra: interviews with Leo Houlding, Scott Burke, Cesare Maestri ( The first to climb Cerro Torre….) and the director….talking with himself! Photos and maps of Yosemite national Park complete the DVD.
You can order it to my E mail: michele.radici@gmail.com and I send you the payment data. The price is 29,95 US $ + 5 US$ shipping charge from Italy to any country.
This is the review that appeared on CLIMBING Magazine – September 2009
The fascinating film "Jim Bridwell: the Yosemite Living Legend" seeks to settle the question "Who is Jim Bridwell?".
Over the next hour, we learn he's: the archetype of the Yosemite climber, with a 20-year Valley reign; standard pusher, with the first Nose in a day and FAs of the Aquar- ian Wall, Sea of Dreams, and Pacific Ocean Wall; gear inventor; YOSAR lion; and ground-up purist. ("This lack of. commitment isn't right. It's like painting a mustache on the Mona Lisa," Bridwell laments.) One treat is 1981 footage from Zodiac (VI 5.11 A3+), in which Bridwell, aiding a naked corner, takes a 40-foot ripper after realizing he needs his copperheads. His response: "Shit!" and then, calmly, "I'll need the chisel, too." The movie also captures Bridwell's comedic side and Camp 4 culture, detailing, for instance, the electricity-siphoning "Operation Edison" and the iconic pic of Bridwell, Largo, and Billy Westbay in front of El Cap after their 1975 sprint up the Nose. —Kristin Bjornsen